Committee for Luang Prabang World Heritage
Committee for Luang Prabang world heritage
To preserve and highlight the natural and cultural heritage of the city of Luang Prabang and control its development, in 1996 the central Government established a National Committee for the management of the National Heritage and the Province of Luang Prabang set up a local Committee for the management of the city and its development.
National Committee for World Heritage
Role and functions:
Guiding the implementation of the National Heritage Management of the Lao PDR, which has been certified as a World Heritage Site.
Supervise the preparation of national cultural heritage (both material and non-object), national and historic. To be presented to UNESCO for consideration.
Coordinate, coordinate and facilitate cooperation.
Considering the appointment of personnel and the secretariat as appropriate.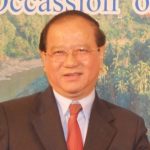 Professor PhD Borsengkham VONGDALA
Chairman of the National Committee for World Heritage
Minister of Information, Culture and Tourism