Buffering Zone
Urban planning and Buffer zone
   Today the world is growing rapidly, and world heritage sites must be protected. Such efforts should cover not only buildings and historical sites, but also their environment, standards, know-how, cultures, and atmosphere. There is a need to strike a balance between commercial needs and sustainable development in urban and peri-urban areas.
   The Luang Prabang authorities have decided to develop a master plan for a buffer zone designed to measure the impact of new projects on the site. The buffer zone's concept should serve as a screen to preserve an expanded site. Thus, for Luang Prabang, it comes to:
Preserve landscapes: Preserving the richness offered by the incomparable view from the summit of Mount Phousi, located in the center of the city in the wooded mountains that surround the city.
Preserve the banks of the river which are an essential part of the site of Luang Prabang, in direct relation to the protected area. The landscape of the river bank is the support of the intangible heritage of the city but also its traditional economic base.

   The Zone of The Urban plan for Luang Prabang World Heritage has a total area of 12,560 ha covering major key point in all four directions such as:
At the northern: from benchmark 587m of Chom Huat Mountain to benchmark 490m of  Nabua Village, to benchmark 395m of Thapho Village, to benchmark 542m of  Chom Ngua Village.
At the southern: from benchmark 766m of Nong Khuay Mountain to benchmark 558m of Xone Mountain, to benchmark 950m of Suang Mountain.
At the eastern: from the benchmark 950m of Suang Mountain to benchmark 416m of Luang Mountain across the Mekong River to the benchmark 587m of Chom Huat Mountain ( the beginning point of the Northern point ).
At the western: from the benchmark 542m of Chom Ngua Village to the benchmark 744m of Vane Mountain straight to the benchmark 398m of Lak Pait Village(Km8), to benchmark 744m of Nong Khuay Mountain.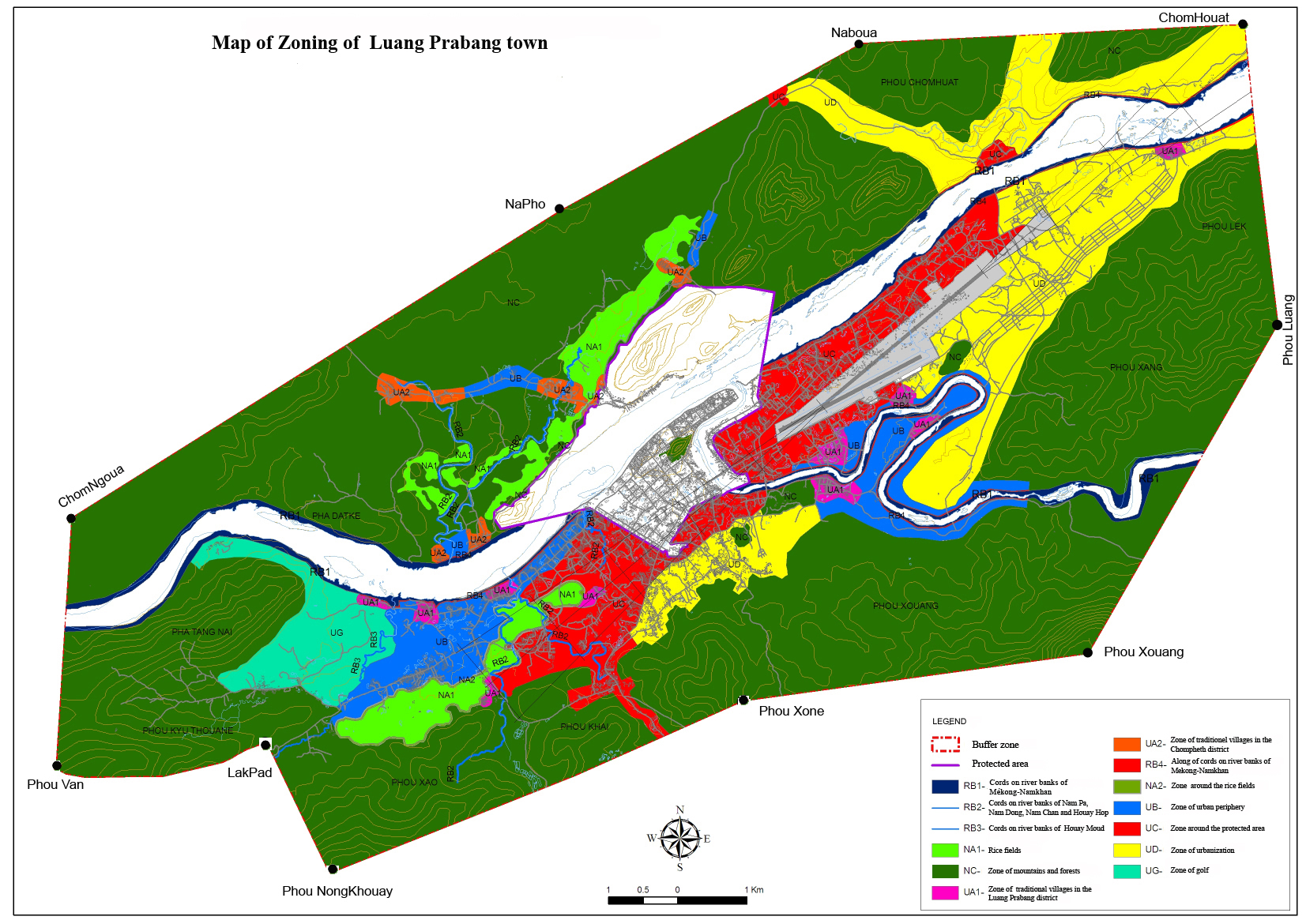 Buffer Zone Regulation as follow
Heritage Preservation Zone:  agrees to maintain as before in accordance with the decisions made by the meeting on the heritage protection and preservation.
The Buffer Zone comprised: